Facility and Parks Locator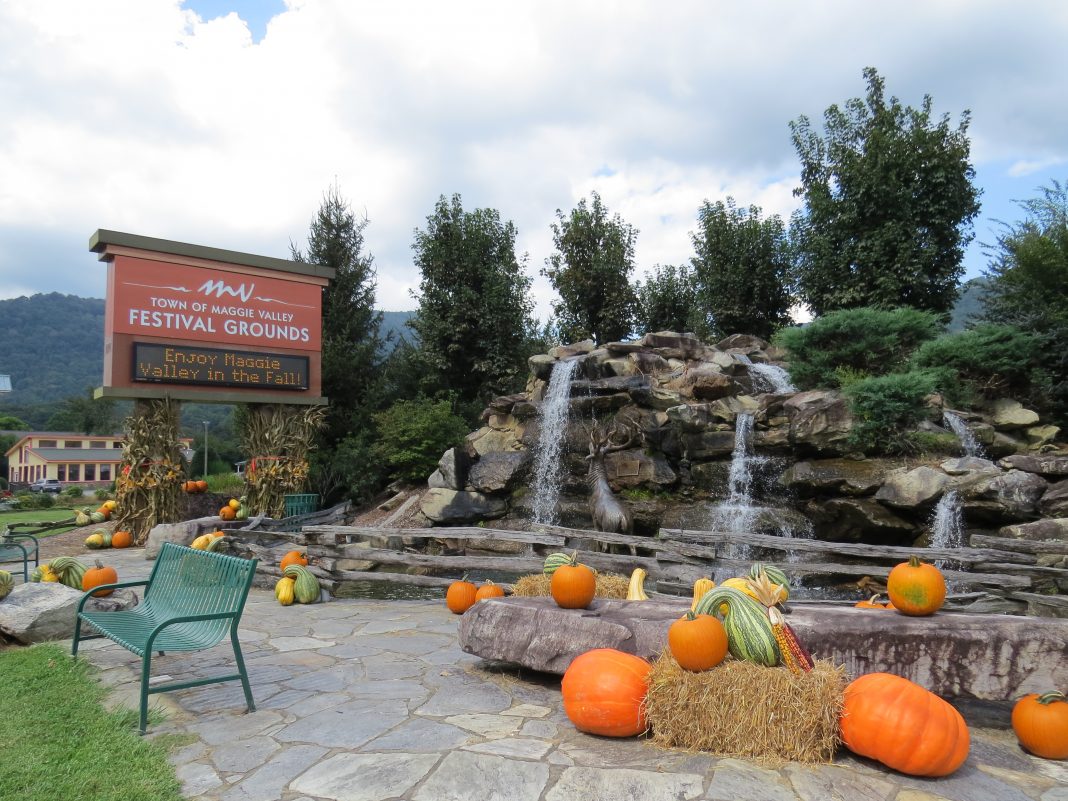 The Maggie Valley Festival Grounds
The Maggie Valley Festival Grounds at 3374 Soco Road is the premier destination for special events and festivals within the Town. Throughout the festival season, the grounds are the hosting point for an array of diverse events. Please visit the Festival Grounds Event Page for more information.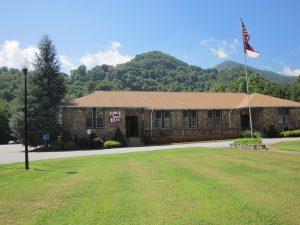 Maggie Valley Town Hall
Maggie Valley Town Hall at 3987 Soco Road is the hub of all Municipal Government within the Community. Please come to Town Hall to attend one of our regularly scheduled meetings, pay taxes, pick up a trash toter, obtain permits, rent the Pavilion, schedule a meeting with Town staff or just to ask questions.
A Mountain Projects Senior Nutrition Center meets in the Town Hall Cafeteria Monday through Friday from 9am to 1pm. This program provides a nutritionally balanced meal, crafts, health promotion, seminars, field trips, bingo, and a time to socialize.  The Congregate Nutrition Program is available free of charge to anyone age 60 or over. Anyone 55 or older is welcome to participate, for a nominal fee.
The Maggie Valley Branch of the Haywood County Library is located in Town Hall as well. The Library is located on the west side of the building and is open Tuesday and Thursday from 9am to 5pm.  828/356-2541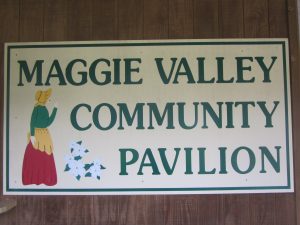 Town Hall Pavilion
The Town Hall Pavilion is located at 3935 Soco Road, beside Town Hall and is a great place to hold special events.  Many birthdays, reunions, showers and family gatherings are held here each year.  Reservations may be made up to one year in advance.  Seating with tables for up to 100 individuals is available.  You may access the Pavilion Rental Policy here.  A Rental Agreement form is here.  If you are interested in renting the space and would like to see if your date is available, please contact Shelly Clement at (828) 926-0866 or sclement@maggievalleync.gov.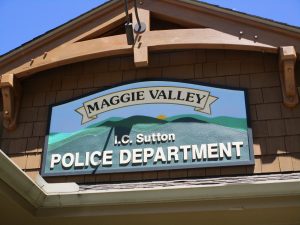 Maggie Valley Police Station
The Police Station is located at 61 Summit Drive.  You may contact the Police Department for regular business (non-emergency) at 828/926-0867.  Citizens and visitors are always welcome to stop by the Police Station.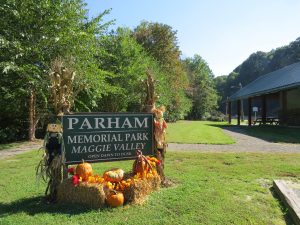 Parham Park
Beautiful Parham Park, located at 1861 Moody Farm Road, at the intersection of Moody Farm Road with Soco Road, and offers residents and visitors the opportunity to picnic either under the shelter on site or by the creek. This park also has restrooms, a fishing pier, walking trail and creekside benches.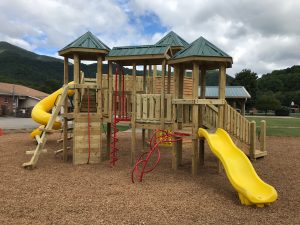 Town Hall Park & Playground
Located behind Town Hall at 3987 Soco Road, Town Hall Park is Maggie Valley's oldest public park and  features a great Playground, swings, picnic shelter with tables and grill, walking path, basketball court and horseshoe pits.  Restrooms are available seasonally in the Town Hall Pavilion nearby.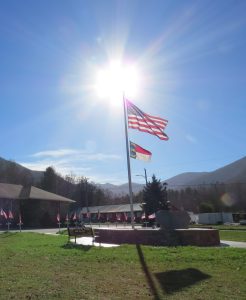 Town Hall Veterans Park
Located in front of Town Hall at 3987 Soco Road, Veterans Park is Maggie Valley's newest public park and features an outdoor gathering place for veterans, military members, families, and community members to celebrate, recognize, remember, and honor the lives of those who are serving or have served in the United States Military.  Read the Waynesville Mountaineer article on this Park's Dedication here.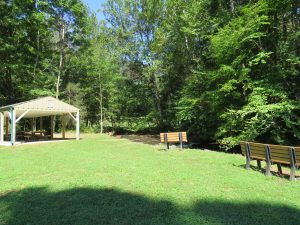 Elevated Creek Park
Elevated Creek Park is located at 3732 Soco Road.  This park is located behind the business here and has a picnic shelter and creekside benches along Jonathan Creek for your enjoyment.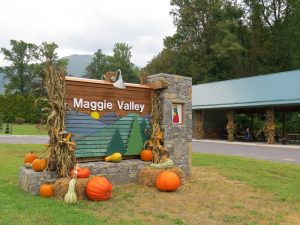 Mary Rathbone Rich Park 
Mary Rathbone Rich Park at 4538 Soco Road, is open for public access. This beautiful park contains a picnic shelter with restrooms and tables, a walking trail, educational signage, creekside benches, rain garden and our Sensory Garden, provided with help from the Maggie Valley Lions Club!  Enjoy a visit here soon!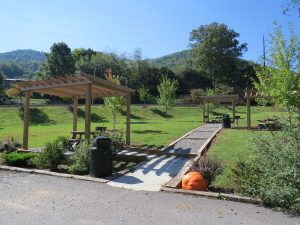 McCracken Corner Park
Public amenities here include pergolas, picnic tables and grills currently installed at McCracken Corner Park at the intersection of Moody Farm Road with Soco Road near the red light.  This is a small park with beautiful views and it does serve as a great parking location to access the Town's sidewalk system and Mountain View Creek Park.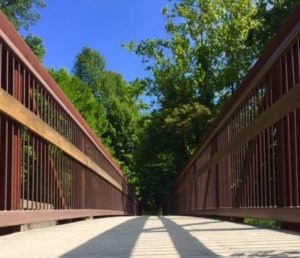 The Moody Farm Road Sidewalk
The Moody Farm Road sidewalk offers walkers and joggers the opportunity to get away from Soco Road and enjoy a peaceful walk with creek views and low traffic.  Parking is readily available at Parham Park or McCracken Park, with restrooms available at Parham Park.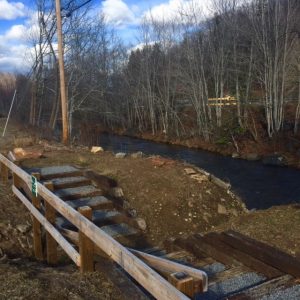 Jonathan Valley Elementary Creek Entrance
This area was created to serve as both an outdoor classroom for Jonathan Valley Elementary School and also to be a lower access point to Jonathan Creek.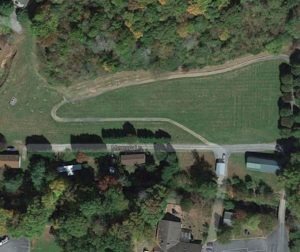 Todd & Ruth Henry Park and Greenway
This lovely .3 mile looped Park and Greenway is located at 4192 Soco Road, behind the Maggie Valley United Methodist Church and is also home to Community Garden apple trees, grape vines and bee hives.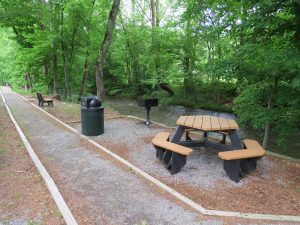 Mountain View Creek Park
This .3 mile Creekside Greenway Park is located off of Moody Farm Road near Maggie Valley Club at Mountain View Drive.  It is planted with native vegetation and allows public access to Jonathan Creek at two entry points.  Enjoy eating at three picnic tables (ADA accessible) with grills, and learn about river ecosystems by reading educational signage.